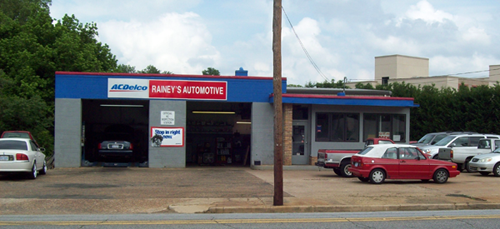 Welcome to Rainey's Automotive service & repair website! We are located on Main Street in Lenoir, NC and very convenient to Highway 321 which runs from Hickory to Boone. We are family owned and been servicing automobiles here in Caldwell County since 1955. Rainey's Automotive is a proud member of the National Institute for Automotive Service Excellence. We are also a member of the Independent Garage Owners of North Carolina and the Automobile Service Association.
Rainey's Automotive strives to provide professional, reliable automotive service and repair at an affordable price. We have established a credible reputation for automotive service and repair not only in Lenoir, but the surrounding communities of Husdon, Sawmills, and Granite Falls. Rainey's Automotive takes the time to talk to each customer and assess their specific situation and get your car back on the road in a timely manner. We offer a wide array of automotive services including local towing and a courtesy shuttle for those that need a ride. Our services include oil changes, NC Inspections, Air conditioning repair, timing belt replacement, radiator replacements and cooling system repairs, replacement of belts and hoses, shocks and struts, Brakes, clutch replacement, automatic transmission service, engine repair including head gaskets and engine replacement, fuel injection repair, tune-ups, alternator and starter replacements, fuel pumps, check engine lights, abs lights, and local towing.
Reliable & Affordable Automotive Repair - Best Warranty in Town.
Our History
Started as Rainey's Gulfpride service in September 1955 by Lee Rainey. The business won several awards from Gulf Oil Corp. for service excellence. In 1967, it was taken over by... Read More
Warranty Coverage
- Most repairs carry a 2 yr/24,000 mile parts and labor nationwide.
- Timing belts carry a 5 yr/50,000 mile parts and labor nationwide warranty.
- Select repairs carry a LIFETIME parts and labor nationwide warranty.
Schedule an Appointment
Contact us online right now to Schedule an Appointment at YOUR convenience. We will then contact you with confirmation of your scheduled appointment time... Click Here